Welcome to River Kids
3 to 5 Year Olds
We proudly use GrowKids, a curriculum specifically created and designed for kids who are 3 to 5 years old. We will take your children on a journey through the Bible. We also teach children how to apply Bible concepts and stories to their everyday lives while building community (friendships) with their peers. The curriculum also allows River Kids to be fresh and new every month.
Every hour of River Kids includes the following elements:
The Big Idea
Every week's lesson has a Big Idea to help kids remember the Bible story. It summarizes what your child is learning that day. This phrase is repeated several times during the lesson.
A Bible Story
Every lesson taught in River Kids comes from a story in the Bible. These stories are written specifically for kids 3 to 5 years old. With activities, object lessons, and a lot of fun, we make it easy for their growing minds to grasp the ideas of the Bible.
The Monthly Memory Verse
Every month we focus on a new Bible Verse that helps each child learn the truths of God's word in a way the littlest learners can remember.
Fun Object Lessons and Activities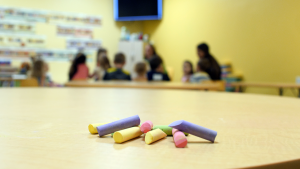 We use a variety of object lessons and activities to give kids a chance to have fun and learn about God at the same time. If they are having fun at church, then they will want to be there - and that gives us the chance to invest more in them. If kids are having fun, they will pay attention and if they are paying attention, they will learn