Join us for Outfitter Kids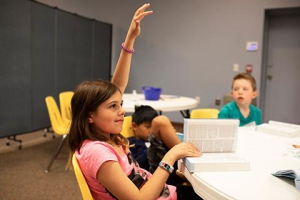 Outfitter Kids meets during the 10:00 AM service every Sunday morning.
We proudly use GrowKids, a curriculum specifically written and designed for kids in kindergarten through 5th grade. We will take your children on a journey through the Bible and teach them how to apply Bible concepts and stories to their everyday lives while building community (friendships) with their peers in small groups. The curriculum also allows Outfitter Kids to be fresh and new every few weeks by introducing a new series every month. This consistently engages children in many new, exciting, and life-changing biblical lessons. Every hour of Outfitter Kids includes the following elements:
Large Group
The first 30 minutes finds the children in a Large Group setting. During this time they will view the Bible Story, Skit, Main Point & Bible Verse. They also sing and review previous lessons. This is a high-energy time full of lessons, laughter, excitement, and fun!
Small Groups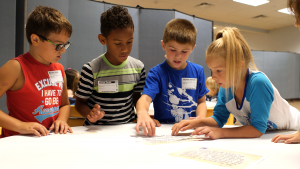 Small Groups are where it happens…teachers help your children explore how the Main Point can work in their lives. This is also where your child is taught to look up scripture and how God's word applies to them personally. If children learn at an early age how the Bible affects their lives, they will trust the Bible to guide them as adults.
The Big Idea
Every week has a Big Idea drawn from a Bible story that summarizes what your child is learning that day. This phrase is repeated several times during Large Group and Small Groups to help reinforce the message.
The Bible Story
Every lesson taught in Outfitter Kids comes from a story in the Bible. These stories are brought to life in your child's mind using a storyteller and multi-media presentations.
The Memory Verse
Every week we will focus on a new Bible Verse that helps each child learn the truths of God's word. We encourage kids to memorize these verses to help them build a strong foundation for life.
C3Kids Worships
For each series, we will sing the familiar and fun song to help kids begin to learn what it means to worship God.
Object Lessons and Activities
We use a variety of object lessons and activities to give kids a chance to have fun and learn about God at the same time. If they are having fun at church, then they will want to be there - and that gives us the chance to invest more in them. If kids are having fun, they will pay attention and if they are paying attention, they will learn!
At C3, we believe that God has given parents the primary responsibility for the spiritual growth and training of their children. We want to partner with and support parents in this role of growing their children to become devoted followers of our Lord and Savior, Jesus Christ. Proverbs 22:6 tells us that if you start children off on the way they should go, even when they are old they will not turn from it. We are here to stand side by side with parents on this privileged journey of raising kids for Christ!